When you need top-of-the-line masonry work that you can depend on, Doctor Masonry, Masonry Professional is the only call you'll ever have to make. We're a locally owned and operated family business, and we're dedicated to delivering the finest work possible on each and every project. See Gallery of some of our work.
When you work with us, you'll get unbeatable masonry work for all your home or office construction and repair needs. Between our commitment to quality and our 10 years of hands-on industry professional experience, you can rest assured that we'll come through for you.
We take pride in offering exceptional customer service and the high-quality product, we are an education-driven company committed to providing the best customer experience possible through knowledge, integrity, and ethical business practices.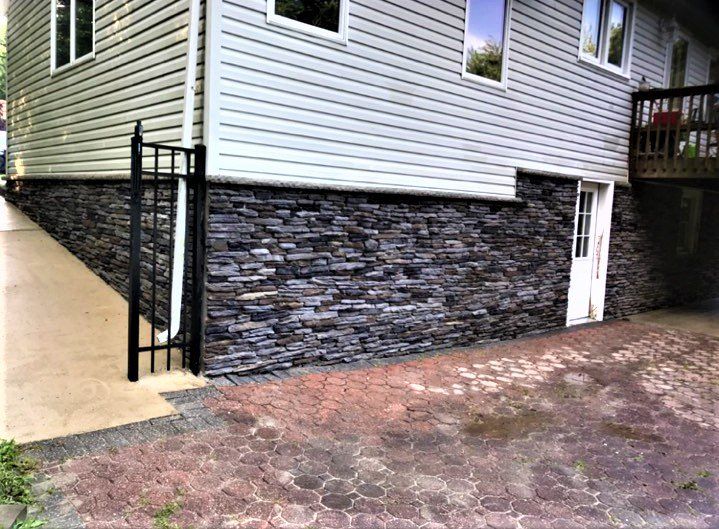 Brick and Stone Patios
Brick and Stone Walk
Brick and Stone Steps
Brick Stone Install
Block Wall Repair
Brick Stone Repair
Block Wall Repair
Stone Veneer Installs
Stone Veneer Repair
Custome BBQ Stone and Brick
Chimney Veneer Rebuild
Chimney Brick Rebuild
Chimney Concrete rebuild and Repair
Chimney Masonry
Chimney  Crown / Pointing / Stucco
Call Our Direct Office 201 981-8382 Get Your Free Estimate
Did you know that a driveway, walkway and porch typically dominate 25-30% of the square footage of most front yards?
Many homeowners invest their time and money into their home w/ landscaping, painting, window treatments and more. After spending all that time, energy and money on all of the things that make your home beautiful, why not consider the final touch of sprucing up that old gray concrete driveway and walkway?
Whether your concrete is new or old, cracked or stained…or even discolored, we will enhance the look of your property and add value as well!
We can take care of repairs, work on existing structures, or tackle new construction projects. Trust us to handle your masonry work, walls, chimneys, walkways, patios, and driveways, excavations, veneer work, outdoor tile, and drainage system. Schedule a consultation with us today to discuss your next project.
Excellent is an understatement. From my first call to get an estimate to the last step of getting the permit closed by the township, this company exceeded my expectations every step of the way. Everyone I dealt with along the way was very polite and helpful. I felt very comfortable hiring them, and it turned out to be such a good decision. Here are just a few reasons why I'm extremely satisfied with Doctor Chimney: Price: I called a dozen companies to get a balk park estimate over the phone. This was the only company that not only was willing to provide pricing over the phone, but actually quoted the exact price. Their price was $500 lower than the next lowest reputable competitor. Also, unlike other companies they did not ask for any money upfront. The price I was quoted on the phone was the total price I paid at the end, after all work was completed. Scheduling and showing up on schedule I was given a date and time that was convenient for me. The tech showed up exactly on time. Craftsmanship and Professionalism: These guys are proud of the work they do, they pay attention to every little detail, use quality materials, and are very very neat.
Drilon Berisha
02:58 12 Dec 17
We just moved into a very old home with two very large, equally old fireplaces. We needed to find someone we could trust with this historic stone house, who would do the job right, on time, and for a fair price, all while respecting the original craftsmanship. Doctor Chimney exceeded our expectations. They were so easy to work with, gave us a wonderful price, and got this immense job done in less than 2 days. All of the workers were kind, respectful, and understanding, they cleaned up after themselves and taught me how to take care of my fireplaces. I would highly recommend them to anyone - old home or new!
Kim Thomas
11:35 12 Dec 17
Nick was on time, very professional. Very forthright about the inspection and offered advice about further repairs we would need to ensure our home's safety.
Juan Ovalle
19:17 18 Dec 17
I wanted to thank Doctor Chimney for their services today! They came to my house right on time, cleaned my chimney fast and efficient. Im so thankful that they were able to accommodate my request on a short notice and cleaned my chimney before the holidays when other companies were booked solid till new year. I would highly recommend Doctor Chimney for all your chimney needs!
Anastassia Kogan
16:01 21 Dec 17
Working with Doctor Chimney was a good experience from start to finish. Nick was very professional and reviewed several options for the needed repairs. The work was scheduled and performed in a timely manner. The brick work looks terrific. The crew was very responsive to questions and took their time to make sure we were happy with the results.
Nick Dervishaj
17:32 28 Dec 17
Excellent service!! I called on December 30, when every business was was already closed, and I received the call back right away. My fireplace was working again next day - Sunday, December 31! Thank you so much!
Marina Sheynin
18:46 02 Jan 18
Excellent service! They came to our house right on time to fix our chimney's cap in the rain! Doctor Chimney was very professional and highly recommended! Thank you!
Yaeko Kaddoura
15:11 22 Feb 18
Great work on repairing our chimney. On time and courteous. I would recommend them.
Joseph Costain
21:54 10 Apr 18
They came quick and everything was explained to me what my fire place needed and they repaired everything in a professional matter. Very honest and upfront on what the charges will be and no hidden costs. They did a fantastic job on my fireplace and now I know it is safe and looks great! Would definitely use them again and are highly recommended. Thanks guys!
Daniel Seidensticker
17:29 11 Apr 18
My chimney was leaking water into the attic space..I called chimney doctor and Nike came and assessed the problem. He was reasonable,punctual,and thorough...these guys are excellent..I would recommend them to anyone..great job guys !!
JOSEPH NELSON
14:28 18 Apr 18
From start to finish, our experience with Doctor Chimney was excellent. We were able to get an immediate appointment, they arrived on time, gave expert and fair advice, and performed professionally, going above and beyond the job at hand. We will definitely be using them again, and recommend them to everyone!
Stephen Martinis
00:17 30 Apr 18
Finally an expert! Explained in detail (quickly), was on time, and actually did what they said they would for the VERY reasonable price they quoted. Our fireplace upon move in was dangerous. The second floor stack had never been properly finished when the previous owners did the second floor addition. We had 3 different Chimney "experts" come work, it actually got worse. We had to put buckets in our fireplace when it rained. Doctor Chimney diagnosed, and fixed the problems in 1 visit. They actually took a hose and sprayed it all over to make actually sure it was perfect. Which they did only because we had so many bad experiences we were nervous. They were just so refreshing. Job very well done.
Patricia McHugh
12:42 10 May 18
Doctor Chimney LLC techs did a fantastic job fixing my chimney! We have had a constant problem with it over the past 10 years, and have tried numerous chimney companies to try and fix it! I truly appreciated how Ardi took his time, explained everything in Great detail to me and even called my Husband at work to explain to him as well! Thank you so much Ardi, it sure is Great to find a honest person to do work in our home!
Robert Germizi
13:26 20 Jun 18
Great Job, They Came to my house in two visits everything was done professionally. Very respectable company I would definitely use Doctor Chimney again and would also recommend this company to anybody else for Chimney needs.
wayne fanciullo
18:00 11 Jul 18
Very nice job done by Dr. Chimney! We had a chimney with multiple problems due to faulty construction but Dr. Chimney's service restored the chimney quickly and very neatly. They arrived on time, told us exactly what they were doing and the finished job is excellent. I only wish I had known about them when I first got the chimney built. I recommend them highly.
Paul Michaud
20:54 29 Aug 18
Very professional. Able to get an appt during a busy time and service person showed up on time. Definitely using them again for my next chimney servicing.
Shannon Skopak
12:23 18 Dec 18
The work this guys do is 5 stars rating, they are professionals and they take care of everything. I will call them in the future definitly i would recommend this company to everyone. Thanks, Doctor Chimney
Denis Sejdiu
03:10 09 Jan 19
Adrian came up and he gave me a quote whitch was reasonable . They started working on my chimney few days later and they were very hardworking guys they did repair my chimney fast and correctly .
jenifer willson
23:56 15 Apr 19
My neighbour recommendet me Doctor chimney and i did call them and explain the chimney problem .They came really fast and they fixed some bricks on my fireplace and they clean the chimney .Thr workers were polite and good people . I will use this company every year to inspect and clean my chimney . Thank you doctor chimney .
angelo stefano
22:40 01 May 19
Fine experience from these guys every step of the way communicated perfectly and I couldn't recommend them more. Our chimney needed replacement - they completed it a little quicker than i expected but the job came out perfect.
Jennyfer Criis
15:17 09 May 19
Lido and Robert were very hardworking and friendly crew . Great service! thank you doctor chimney .
Alex Smith
15:05 25 Jun 19
Masonry Repair and Install Servies
Brick and Stone Patios
Brick and Stone Walk
Brick and Stone Steps
Brick Stone Install
Block Wall Repair
Brick Stone Repair
Block Wall Repair
Stone Veneer Installs
Stone Veneer Repair
Custome BBQ Stone and Brick
Chimney Veneer Rebuild
Chimney Brick Rebuild
Chimney Concrete rebuild and Repair
Chimney Masonry
Chimney  Crown / Pointing / Stucco